304 Stainless Steel Foils
Are you looking forward to having a plan or coming up with an idea to buy 304 stainless steel foil roll product for aerospace industry, instrumentation industry, chemical machinery industry, military scientific research unit, electronic and electrical industry, medical ship and other high-tech systems manufacturing?
Here you've come to the right place.
Check out the following buyer's detailed guide for project engineers, operators and beginners, we'll offer you the high quality stainless steel foils and strips solutions with 24/7 custom service to fit your every idea and plan.
What Is 304 Stainless Steel Foil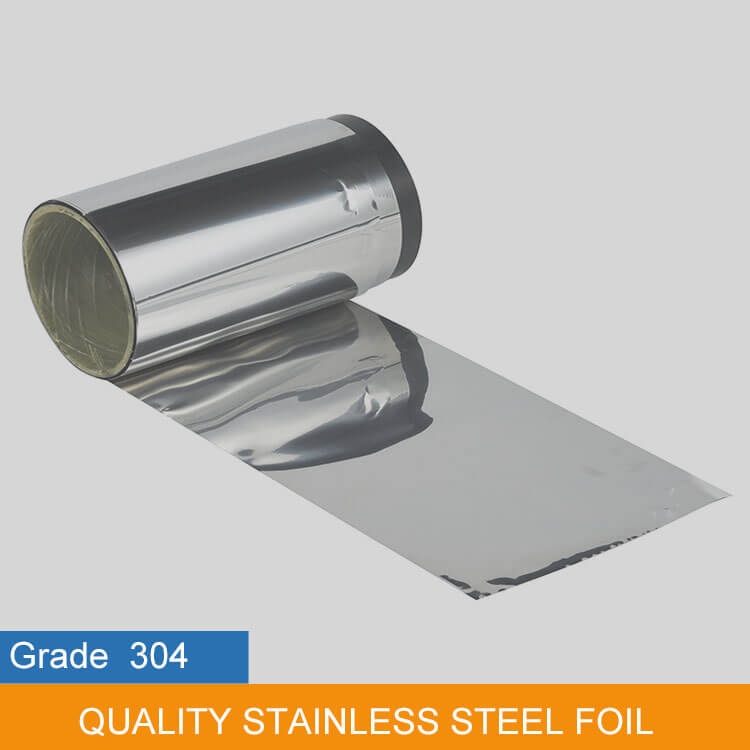 Ultra-thin 304 stainless steel strips coils are also called 304 stainless steel foil rolls and are the high-end products in the field of stainless steel strips foils.
At present market, there are many 0.05mm thickness soft temper thin stainless steel strips coils.
Different from conventional stainless steel strips, super precision thin stainless steel strips refer to a special ultra-thin cold-rolled stainless steel strips whose thickness is generally between 0.05 mm and 0.5 mm. The thickness is below 0.05 mm, it is called stainless steel foil.
Hand-tear 304 strip is also called precision 304 stainless steel foils, which represents the advanced technology of China.
Waht Are 304 Stainless Steel Foils Applications
304 stainless steel foil is a versatile stainless steel material.
The anti-rust performance is stronger than 201 stainless steel strip materials.
High temperature resistance is also better, as high as 1000-1200 degrees.
304 stainless steel foil has excellent corrosion resistance and good resistance to intergranular corrosion.
In nitric acid with a concentration ≤65% below the boiling temperature, 304 stainless steel foil has strong corrosion resistance.
It also has good corrosion resistance to alkaline solutions and most organic and inorganic acids.
Grade 304 stainless steel foils rolls are popular for a variety of commercial and industrial applications.
Surgical instruments
Architecture
Precision electronical parts
Solar and alternative energy
Other Precision Parts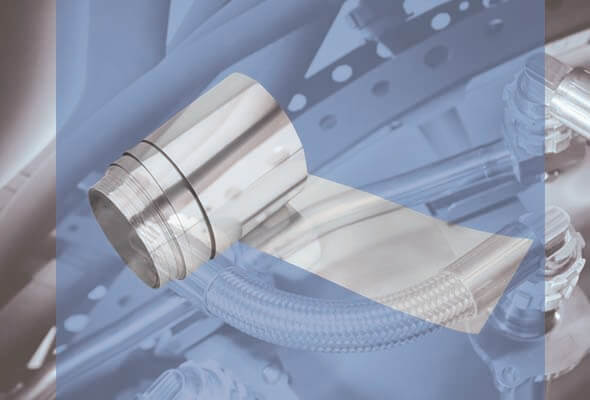 304 Stainless Steel Foil Chemical Composition
The chemical components of grade 304 stainless steel foil roll is summarized in the following table:
| | | | | | | | | | |
| --- | --- | --- | --- | --- | --- | --- | --- | --- | --- |
| Grade | Standard | C | Si | Mn | P | S | Cr | Ni | Mo |
| 304 | ASTM A240 | ≤0.07 | ≤0.75 | ≤2.00 | ≤0.045 | ≤0.030 | 18.00-20.00 | 8.00-11.00 | – |
304 Stainless Steel Foil Mechanical Properties
The mechanical properties of grade 304 stainless steel foil is summarized in the following table:
Stainless Steel Grade
Tensile Strength (MPa) min
Yield Strength 0.2% Proof (MPa) min
Elongation (% in 50mm) min
Hardness
Rockwell B (HR B) max
Brinell (HB) max
304
515
205
40
92
201
How To Make 304 Stainless Steel Foils?
1. Raw Materials Preparation
The raw materials of 304 stainless steel mother coils are purchased from well-known manufacturers such as TISCO and POSCO, and every batch of goods is said to be genuine.
Each batch of goods has a product quality certificate issued by the origin manufacturer.
Our company will also conduct full inspections on the raw materials sent to the factory, and select raw materials for sampling and use for spectral testing.
The spectral testing can roughly detect the ingredients contained in the raw materials. We will check with the manufacturer's quality certificate. Make a comparison and confirm that the materials are correct.
Checking details include products thickness tolerance, width of coil, outside packaging, label marks, inside surface finish, chemical components, etc.
We will also save some raw materials and finished products of precision 304 stainless steel foils, and send them to qualified testing institutions on a regular basis, so that the testing institutions can use professional instruments to test our precision stainless steel foils and raw materials.
For full quality control, ensuring that our products are in compliance in every standard of the national technical specifications.
During this step of the precision thin 304 stainless steel foils manufacturing process, a cold rolling mill is used to achieve the final desired thickness of the steel strip foil, a machine that also ensures the quality of the good surface finish, the flatness of the strip and the variation of the thickness to match with the international standards.
We have to mention that the twenty-high rolling mill equipment.
Twenty-high rolling mill, including stand, roll system, roll box, pressing device and driving device.
The thickness of the produced stainless steel foil can be up to 0.001mm. The rectangular saddle and the housing are easy to process, the matching accuracy is high, and the lower roll box is easy to adjust and make the rolling line maintain a standard height.
After cold rolling process, we can achieve the super thin 304 stainless steel foils products with 0.02mm thickness.
In this step, the metallurgical process is performed on the whole 304 stainless steel foil body.
Through the heat treatment, the microstructure of the foil material is altered in order to provide the desired mechanical properties while on usage.
The thin 304 stainless steel foil is processed for bright annealing treatment. The foil can be fast cooled by the the continuous annealing line.
The traveling speed of the thin stainless steel foil on the line is around 60m~80m/min.
Cleaning the residual oil on the surface of the thin 304 stainless steel foils due to the stains during the rolling process.
The principle is to use the chemical reaction (saponification reaction) between the alkaline agent and the grease on the surface of the steel foils to remove the grease.
In order to wash them off, hot alkaline rinsing is performed.
The speed of the whole cleaning unit line is about 60meters/min, which can handle 0.02mm-1.0mm thickness 304 stainless steel foils.
5. Tension Straightening Process
When thin 304 stainless steel foil is rolled on a twenty-high rolling mill with a thickness of 0.02mm-0.8mm, it is a difficult-to-deform metal strip condition.
Under the condition of complete softening and large tension leveling, the use of stretch bending straightening is the only method that can eliminate the stress of steel stainless foil.
The tension leveling is performed by means of a skin pass mill, a machine that, in addition to improve the mechanical properties, which helps to improve the final brightness of the steel foil. That way, the desired features of the final foil product are guaranteed.
After straightening process, the stress distribution in the entire stainless steel foil is more uniform and the plate shape is more straight.
The excellence control and management to production process assures the straightness of each stainless steel foil with variety hardness temper.
For super thin 304 stainless steel foils slitting process, our staff will use the precision and small machines to cut the narrow thin foils coils. Thickness of thin roll foils is from 0.02mm to 0.08mm.
Our workers will make adjustments between finished coils and cutting tools when they are preparing to slit in order to minimize the burr of strips edge as much as possible.
The precision thin 304 stainless steel foils manufacturing process ends with the slitting, where slitting knives of the highest precision are used to obtain the final width and burr level of the cold rolled precision foil stainless steel.
What Is 304 Stainless Steel Foil Packaging
Our company have professional team who can adopt developed packaging technology to assure no any damages of 304 stainless steel foils products during transportation.
Standard export packaging:
Waterproof Paper Winding+PVC Film+Strap Banding+Wooden Pallet or Wooden Case;
Customized packaging as your request (Logo or other contents accepted to be printed on the packaging);
Other special packaging will be designed as customer's request;
Eye to wall and eye to sky are both available;
By International Express: DHL/UPS/FEDEX/EMS and our own express line;
By air or By sea;
Shipping port: Shanghai, Ningbo or as your request.
Precision 304 Stainless Steel Foils Manufacturers: Which Is Right For You?
In the current stainless steel foils market, the quality is already a lot of manufacturers to abandon, and how to save production costs, to win the price of every tender from customers has become their only standard.
So if you are in precision 304 stainless steel foils area, you are not only need the supplier, but also a long term business partner.
HZW has several years of production high quality stainless steel foils experience which make it an ideal choice for you.
We revise the orders and take thorough insights before forwarding the order to the final production line. This makes sure the every production is carried out in the most effective manner with zero errors.
If you want to purchase 304 and 301 stainless steel foils products, why not contact us here for saving your time and money?