316L Stainless Steel Coil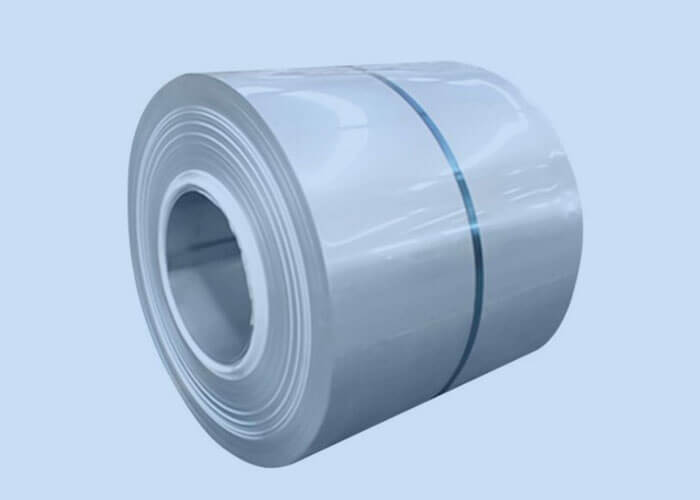 316L Stainless Steel Coil
316L stainless steel coil is a low carbon, corrosion resistant grade. It has excellent weldability and its heat treatment properties are very similar to type 310s coil.
316L stainless steel coils have many applications including chemical processing, food handling equipment and marine applications. They can be used in the fabrication of containers for high temperature corrosive liquids and gases such as petrochemicals, chemical feedstocks and liquified natural gas (LNG).
316L Stainless Steel Coil Specifications
| | |
| --- | --- |
| Product Name | 316L stainless steel coil |
| Grades | 316L/EN 1.4404/SUS316L |
| Hardness | ≤95HRB |
| Thickness | 0.02mm-6.0mm |
| Width | 1.0mm-1500mm |
| Edge | Slit/Mill |
| Quantity Tolerance | ±10% |
| Paper Core Internal Diameter | Ø500mm paper core, special internal diameter core and without paper core on customer request |
| Surface Finish | NO.1/2B/2D/BA/HL/Brushed/6K/8K Mirror,etc |
| Packaging | Wooden Pallet/Wooden Case |
| Payment Terms | 30% TT deposit and 70% balance before shipment, 100% LC at sight |
| Delivery Time | 5-7 working days |
| MOQ | 200Kgs |
| Shipping Port | Shanghai/Ningbo port |
| Sample | The sample of 316L stainless steel coil is available |
316L Stainless Steel Coil Chemical Compositions
The chemical components of grade 316L stainless steel coil is summarized in the following table:
| | | | | | | | | | |
| --- | --- | --- | --- | --- | --- | --- | --- | --- | --- |
| Grade | Standard | C | Si | Mn | P | S | Cr | Ni | Mo |
| 316L | ASTM A240 | ≤0.03 | ≤1.00 | ≤2.00 | ≤0.045 | ≤0.030 | 16.00-18.00 | 10.00-14.00 | 2.00-3.00 |
316L Stainless Steel Coil Mechanical Properties
| | | | | | | |
| --- | --- | --- | --- | --- | --- | --- |
| Grade | EN Grade | Yield Strength Rp0.2(N/mm²) | Tensile Strength Rm(N/mm²) | Hardness | Hardness(HRB) | Elongation A50% |
| 316L | 1.4404 | ≥170 | ≥585 | Annealed | ≤95 | ≥40 |
How About 316L Stainless Steel Coil Production Process?
Most people don't know how the 316L stainless steel coils are made, instead, they always see a lot of stainless steel coils in steel plants or industrial fields, but the truth is making 316L stainless steel coils is not easy than you imagined.
Basically, there are following steps for 316L stainless steel coils production.
316L Stainless Steel Coil: The Ultimate Guide
316L stainless steel coil is almost identical to 316 grade coil.
316L stainless steel coil has lower carbon content imparts even better corrosion resistance than 316.
What are 316L stainless steel coils?
316L stainless steel coil is an austenitic stainless steel that offers both good corrosion resistance and high strength. It has similar mechanical properties to 304L coil but is more resistant to pitting and crevice corrosion.
It has a lower melting temperature than 304L coil, making it more suited for applications where the material may be exposed to higher temperatures before being processed into a component, such as welding or brazing.
316L stainless steel coils can be formed by rolling, drawing, or forging methods. It is used in many applications including: marine, chemical process equipment and food processing equipment.
What are the applications that 316L stainless steel coils can be used?
316L stainless steel coils are widely used in the construction, transportation and other industries. It is a very popular kind of stainless steel that has good corrosion resistance against many aggressive chemicals, especially chloride ion.
The 316L stainless steel coils have excellent mechanical properties and can resist high temperature well. It is also very suitable for welding, cutting and bending.
The 316L stainless steel coils have many applications in various industries:
Chemical industry: In chemical production plants, we often use 316L stainless steel tubes to transport corrosive chemicals. It has good corrosion resistance against acids, alkalis and many other chemical substances.
Construction industry: In construction projects, we often use 316L stainless steel pipes to transport water or sewage from one place to another place. The material is durable enough for long-term use.
Food industry: Here we often use 316L stainless steel pipes as boiling tubes because they can resist high temperature well without deforming during cooking process while other materials may be damaged by heat easily.
Features of 316L stainless steel coils
Corrosion Resistance
The corrosion resistance of 316L stainless steel coil is better than 304 stainless steel coil, and it has good corrosion resistance in the production process of pulp and paper industry. And 316L stainless steel coil is also resistant to the erosion of the ocean and corrosive industrial atmosphere.
Heat Resistance
In the intermittent application below 1600 degrees, 316 stainless steel coil has good oxidation resistance.
316L stainless steel coil has better resistance to carbide precipitation than normal 316 grade stainless steel coil.
What are 316L stainless steel coils surface finish?
Through different processing methods of cold rolling and surface reprocessing after rolling, the surface finish of 316L stainless steel coils can have different types.
The surface processing of stainless steel coils have NO.1, 2B, No. 4, HL, No. 6, No. 8, BA, TR hard, Rerolled bright 2H, polishing bright and other surface finishes, etc.
NO.1: No. 1 surface refers to the surface obtained by heat treatment and pickling after hot rolling of the stainless steel strip. It is to remove the black oxide scale produced during hot rolling and heat treatment by pickling or similar treatment methods. This is No. 1 surface processing. The No.1 surface is silvery white and matt. Mainly used in heat-resistant and corrosion-resistant industries that do not require surface gloss, such as alcohol industry, chemical industry and large containers.
2B: The surface of 2B is different from the 2D surface in that it is smoothed with a smooth roller, so it is brighter than the 2D surface. The surface roughness Ra value measured by the instrument is 0.1~0.5μm, which is the most common processing type. This kind of stainless steel strip surface is the most versatile, suitable for general purposes, which is widely used in the chemical, paper, petroleum, medical and other industries, and can also be used as a building curtain wall.
TR Hard Finish: TR stainless steel is also called hard steel. Its representative steel grades are 304 and 301, they are used for products that require high strength and hardness, such as railway vehicles, conveyor belts, springs and gaskets. The principle is to use the work hardening characteristics of austenitic stainless steel to increase the strength and hardness of the steel plate by cold working methods such as rolling. The hard material uses a few percent to several tens of percent of the mild rolling to replace the mild flatness of the 2B base surface, and no annealing is carried out after rolling. Therefore, the TR hard surface of the hard material is the rolled after cold rolling surface.
Rerolled Bright 2H: After the rolling process. the stainless steel strips will be processed bright annealing. The strip can be fast cooled by the the continuous annealing line. The traveling speed of the stainless steel strip on the line is around 60m~80m/min. After this step, the surface finish will be 2H rerolled bright.
No.4: The surface of No. 4 is a fine polished surface finish that is brighter than the surface of No. 3. It is also obtained by polishing the stainless steel cold-rolled stainless steel plate with 2 D or 2 B surface as the base and polishing with abrasive belt with a grain size of 150-180# Machined surface. The surface roughness Ra value measured by the instrument is 0.2~1.5μm. NO.4 surface is widely used in restaurant and kitchen equipment, medical equipment, architectural decoration, containers, etc.
HL: HL surface is commonly called hairline finish. Japanese JIS standard stipulates that 150-240# abrasive belt is used to polish the continuous hairline-like abrasive surface obtained. In China's GB3280 standard, the regulations are rather vague. HL surface finish is mostly used for building decoration such as elevators, escalators, and facades.
No.6: The surface of No. 6 is based on the surface of No. 4 and is further polished with a Tampico brush or abrasive material with a particle size of W63 specified by GB2477 standard. This surface has a good metallic luster and soft performance. The reflection is weak and does not reflect the image. Due to this good property, it is very suitable for making building curtain walls and building fringe decorations, and also widely used as kitchen utensils.
BA: BA is the surface obtained by bright heat treatment after cold rolling. Bright heat treatment is annealing under a protective atmosphere that guarantees that the surface is not oxidized to preserve the gloss of the cold-rolled surface, and then use a high-precision smoothing roll for light leveling to improve the surface brightness. This surface is close to a mirror finish, and the surface roughness Ra value measured by the instrument is 0.05-0.1μm. BA surface has a wide range of uses and can be used as kitchen utensils, household appliances, medical equipment, auto parts and decorations.
No.8: No.8 is a mirror-finished surface with the highest reflectivity without abrasive grains. The stainless steel deep processing industry also calls as 8K plates. Generally, BA materials are used as raw materials for mirror finishing only through grinding and polishing. After mirror finishing, the surface is artistic, so it is mostly used in building entrance decoration and interior decoration.
What are 316L stainless steel coils edges?
Mill edge is a non-trimmed edge appearance after hot or cold rolling and annealing/pickling process. It usually leaved an irregular pinhole line on the edge side around 10mm to 15mm.
Slit/slitting edge means we will trim irregular pinhole line on our slitting machine.
How to buy 316L stainless steel coil from China?
Stainless steel coil is widely used in the field of industry and construction, and it has a bright future in the market.
As we know, stainless steel coil is made by rolling and drawing the steel strip so that it will become a coil with a circular cross section and different diameter.
There are many factors influencing the quality of stainless steel coils, such as production process, material selection and processing technology.
Therefore, if you want to buy stainless steel coils at lower price with high quality and good service from China suppliers, you need to know how to buy stainless steel coils from China firstly.
First of all, you should choose a reliable supplier who can provide good quality stainless steel coils products at competitive prices. Then you can negotiate with them on price and other terms until reaching an agreement.
Secondly, you need to check whether they have advanced production equipment or not because if they do not have advanced equipment for producing various kinds of coils including stainless steel coils or if their production capacity is limited then it would be difficult for them to supply high quality products at competitive prices all year round.
Thirdly, it is better to visit their factory by yourself and check the production line and warehouse by yourself. It will be great if you can check their production process and production equipment. Because it is very important for you to know how they control the quality from process till delivery.
What is the standard sea packaging of 316L stainless steel coil?
Standard export sea packaging:
Waterproof Paper Winding+PVC Film+Strap Banding+Wooden Pallet or Wooden Case;
Customized packaging as your request (Logo or other contents accepted to be printed on the packaging);
Other special packaging will be designed as customer's request;
Eye to wall and eye to sky are both available;
By International Express: DHL/UPS/FEDEX/EMS and our own express line;
By air or By sea;
Shipping port: Shanghai, Ningbo or as your request.