Stainless steel strips packaging should provide strong protection to the packaged cargoes from any form of damage during the transportation and shipment.
To some degree, exquisite packaging reflects the stainless steel strips manufacturers' value added service. It greatly influences the buyer's following purchasing orders and plans.
Exquisite and stable packaging also becomes the supplier ability and helps to distinguish the product from different steel strips competitors.
Without further ado, let's jump straight into the topic to find the right solutions on stainless steel strips standard sea packaging.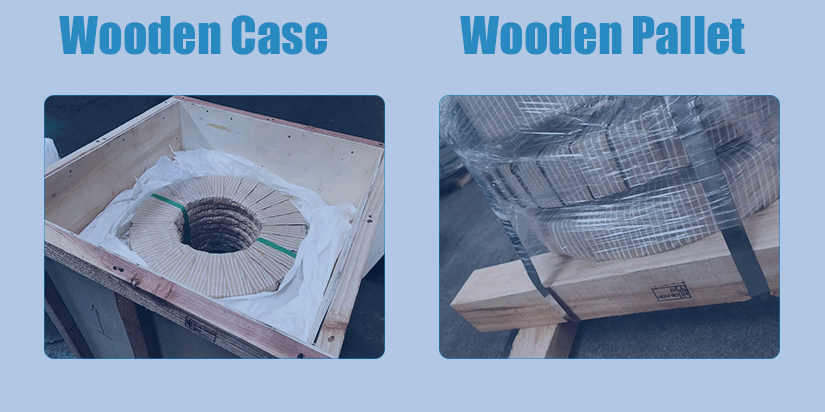 Usually, the wooden case and wooden pallets are the two main types for stainless steel strips packaging. Eye to wall and eye to sky are both available.
Firstly, waterproof paper is winding with bare stainless steel strips.
Secondly, using plastic or steel banding strap to band stainless steel strips with wooden pallets together.
Thirdly, using PVC film to package all stainless steel strips with pallets.
In addition, clear labels are tagged on the outside of these packages for easy identification of these strips measurements and quality information.
The fumigation wooden pallets and non-fumigation pallets are two kinds of wooden pallets types.
Because of the limit and customs requirements of various countries, so non-fumigation wooden pallets are widely used.
What Are The Best Materials Used For Stainless Steel Strips Packaging
If you're looking for the best way to ship your stainless steel strips, wood case and wooden pallet packaging is your best choice.
Wood packaging has been used for centuries in the preparation, packaging, storage, and transportation.
This is mostly due to all the awesome benefits wood packaging entails like low-costs, high strength, helping the environment, as well as ease of use.
Wooden cases and pallets are an awesome option for shipping steel strips because they offer many perks like a higher efficiency for large dimension products and they are recyclable.
Iron pallet, also known as steel pallet and metal pallet, is a container unit tool used for mechanized loading and unloading, handling and stacking of goods.
The friction coefficient is large when used on the shelf, it is not easy to slide under the load state, and the use is safe and reliable.
The iron pallet has good rigidity, large bearing capacity, durability and long service life.
Especially when used for export, iron pallets do not need fumigation, high temperature disinfection or anti-corrosion treatment, which conforms to international environmental protection regulations.
How About The Stainless Steel Strips Packaging Cost
When it comes to international trading business, one problem we must solve is the products packaging cost.
Some Chinese manufacturers like to make the quotation list including this cost item on it.
In common sense, the wooden case cost is more higher than simply wooden pallet because of itself production process.
Firstly, the inquiry of products from buyers can decide which type of packaging will be used.
Secondly, we need to know how many packaging cases or pallets will be used for this request cargo.
Thirdly, we can help calculate the total price of all packaging here.
At last, the detailed quotation will be sent to customers for reference.
What Is The Packaging Dimensions For Shipment
Just as above article mentioned, cases and pallets are the two main types for stainless steel strips packaging.
Let us take an example.
0.15mm thickness 304 stainless steel strip, width is 100mm. Core inner diameter is 500mm, outer diameter is 900mm. 1000kg cargo total weight is 460mm.
One wooden case with strips gross weight is 1100kg.
And one customer ordered 10 tons of these same size strips.
So 10 wooden cases are needed.
Here we help them use one good quality wooden case for packaging and shipment.
So after inner packing of 10 tons stainless steel strips, the final accurate dimension of these wooden cases would be as follows:
Length is 1000mm, width is 1000mm, total height is 600mm.
Here we can figure out the measurement of these wooden cases. Total measurement is 0.6*10=6.0m³.
How Can Stainless Steel Strips Packaging Be Improved
There is always the theme which are often discussed between buyers and sellers.
You should check the raw material and stability of each packaging before shipment.
Then the low cost of steel strips packaging design and production should be considered here.
If customers want to save the packaging cost and do not accept the harden one, the products loss due to the packaging damage will result more problems.
Contact An Expert For Your Stainless Steel Strips Packaging