Aluminum Strips For Cable Armouring
Your Premier Aluminum Strips For Armored Cable Manufacturer in China
Aluminum Strips For Cable Armouring
Aluminum strip is a type of metal strip that is commonly used for cable armouring applications. Cable armor is a protective layer used to shield cables from external factors such as mechanical damage, moisture, and other environmental hazards.
Aluminum strip is an ideal material for cable armouring due to its high strength-to-weight ratio, excellent resistance to corrosion, and its ability to be easily shaped and formed to fit the cable. In cable armouring applications, the aluminum strip is typically wound around the cable in a spiral formation, providing an additional layer of protection against damage.
Whatever size at whatever tight tolerance of aluminum strips you demand, HZW here is sure to have it!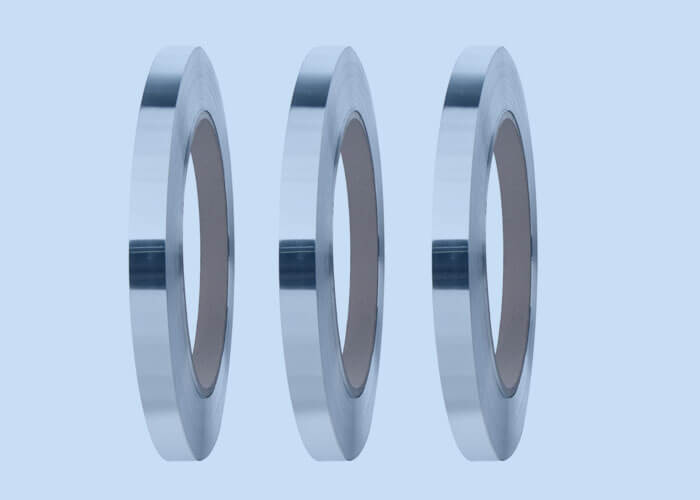 Armored Cable Aluminum Strips Global Leading Manufacturer
Ask Free Quote | Get Free Samples
* Indicates a Required Field
Aluminum Strips For Cable Armouring Specifications
Product Name
Aluminum Strips For Cable Armouring
Grades
5052, 1060
Temper
O, H24, H32
Thickness
0.4mm-2.0mm
Width
9.5mm, 12.7mm, 19mm, 25.4mm, max 1250mm
Edge
Slit/Round
Quantity Tolerance
±10%
Paper Core Internal
Diameter
150mm, 200mm, 300mm, 400mm, 508mm, etc.
Surface Treatment
The strip has a smooth surface, free from scratches and impurities
Electrical Conductivity
More than 30% IACS.
Applications
For cable armouring
Packaging
Wooden Pallet/Wooden Case
Payment Terms
30% TT deposit and 70% balance before shipment, 100% LC at sight
Delivery Time
7-10 working days
MOQ
500 Kgs
Shipping Port
Shanghai/Ningbo port
Sample
The sample of Aluminium strip is available
Remark
Aluminium foil strip can be customized
5052 Aluminum Strips For Cable Armouring
Aluminum Strips For Cable Armouring Grades
Aluminum strips for cable armoring can be classified into different grades based on their chemical composition, mechanical properties, and other characteristics. The most commonly used grades for aluminum strips for cable armoring are:
1xxx Series: These are pure aluminum grades with a minimum aluminum content of 99%. These grades are soft, ductile, and have excellent corrosion resistance. However, they have low strength and are not suitable for heavy-duty cable armoring applications.
5xxx Series: These grades contain magnesium as the main alloying element, with a minimum aluminum content of 95%. These grades have excellent strength and formability and are suitable for heavy-duty cable armoring applications.
The specific grade of aluminum strip used for cable armoring will depend on the application requirements, such as the cable size, weight, and the level of protection needed.
Aluminum Strips For Cable Armouring Chemical Composition
Grade 1060 O Aluminum Strips Chemical Composition(%)
Element
Al
Si
Fe
Mg
Zn
Mn
Ti
Cu
V
Standard Value
≥99.6
0.0431
0.203
0.0013
0.0093
0.0104
0.02
0.0022
0.0039
Grade 5052 H24 Aluminum Strips Chemical Composition(%)
Alloy
Si
Fe
Cu
Mn
Mg
Cr
Zn
Ni
Ti
Other
Al
Each
Total
5052
0.4
0.25
0.1
0.5
2.6-3.6
0.3
0.07
–
0.15
0.03
–
balance
Aluminum Strips For Cable Armouring Edges Options
Many products managers and engineers have the trouble of cable armouring aluminum foils strips edges.
In the actual operation process, due to the influence of steel strip hardness and unloading speed, it is difficult to effectively control the edge of the aluminum foil strip.
However, after our technical personnel have studied for a long time, we have found a solution to this problem. The edge finishing of our aluminium foils strips shall meet the requirements of the figures show.
Aluminum Strips For Cable Armouring: The Ultimate Guide
Aluminum strips are one of the most important metal materials in cable manufacturing industry.
With the development of science and technology, more and more aluminum foil strips are widely used in the cable industry.
So what's the application? What's the production process of aluminum foil strips for cables?
In this guide, we will show you details about all.
What are aluminum strips for cable armouring?
Armored cables consist of conductive material encased in an insulating material and processed to create a flexible, solid combination.
The armor layer is divided into two types: a metal layer and a metal wire layer.
Aluminum armored cables are part of the metal belt category of armored cables and are produced using machines that arm them with aluminum strips to protect them from damage.
The metal layer is typically made of steel or aluminum to prevent mechanical damage to the power cable during installation.
To meet the application requirements of the armored cable, the outer protective layer is made of an alloy-sheathed aluminum strip.
The aluminum strip can be customized according to customer requirements of different widths and thicknesses.
What are the advantages of using aluminum strips for type AC armoured clad cable?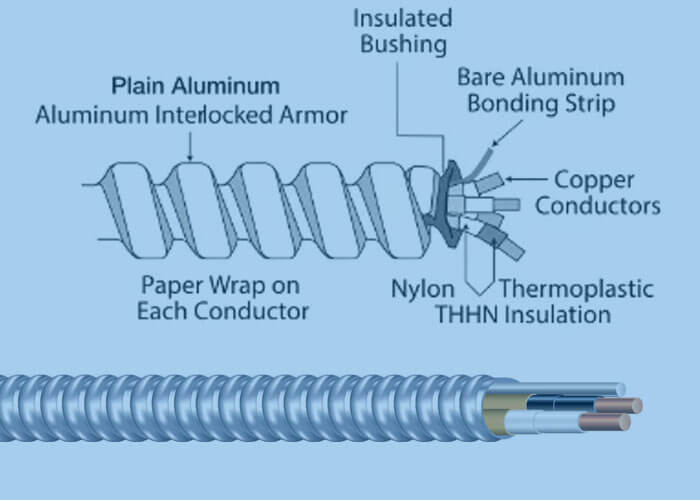 Constructed using cutting-edge rolling mills, advanced control systems, and specialized coiling technology, these armored cables are state-of-the-art.
Armoring equipment manufacturers endorse and recommend these cables.
Armored cables, reinforced with aluminum strips, play a crucial role in maintaining the stability and security of power and communication systems. As more large-scale projects such as mineral extractions, underground installations, and submarine applications rely on armored cables, the use of armored aluminum strips in the armor layers is becoming increasingly widespread.
The aluminum strip armor layer effectively withstands external pressure, protecting the cable, inner lining, and internal structure, thereby reducing the risk of electric and insect corrosion. This prolongs the service life of both the cable and optical cable.
How to buy aluminum strips for cable armouring?
If you want to buy aluminum strips for cable armouring, you should know, there are many suppliers and manufacturers produce aluminum strips foils and supply to many industries like cable industry.
But in fact, not all the suppliers have the ability to produce good quality products, some of them just choose cheaper materials but with high price which is not a good choice for users.
Here is a quick guide on how to choose a good supplier.
First, you should ask the manufacturer whether they can do the inspection themselves before delivery. Most of the large manufacturers have their own inspection team, they will strictly inspect all the goods before delivery.
Second, you should ask if they use 100% pure raw material to produce your goods, because there are some suppliers use recycled raw material or mixed raw material which may cause problem during using.
Third, it is better to visit their factory by yourself and check the production line and warehouse by yourself. It will be great if you can check their production process and production equipment. Because it is very important for you to know how they control the quality from process till delivery.
What is aluminum strips for cable armouring hardness?
The typical Brinell hardness for the strip material must determinate after annealing process (Hardness Brinell Typical: 18HB).
What is the packaging standard of aluminum strips for cable armouring?
The packing for aluminum strips for cable armouring is mainly about wooden pallet and wooden box.
Aluminum foil length of each roll should be same, packaging mark should have clear and complete information.
Wooden Pallet: Standard export package, no fumigation; Pallet size: 1.1m x 1.1m x 0.8m; Gross weight: 1 Ton; 4 pallets/20′ FCL; 8 pallets/40′ FCL Or as per customer's requirements.
Wooden Box: The standard export package with fumigation certificate, it can avoid any potential damage during the transportation.
How aluminum strips for cable armouring are made?
Aluminum strips for cable armoring are typically produced using a process called continuous casting and rolling. The process begins with aluminum ingots that are melted and poured into a casting machine, where they are shaped into a slab of the desired thickness.
The slab is then heated and passed through a series of rolling mills to reduce its thickness to the required dimensions. At this stage, the aluminum may also be heat-treated to improve its strength and ductility.
Once the aluminum strip has been rolled to the desired thickness, it is coiled and transported to the armoring equipment manufacturer for further processing. The manufacturer will typically apply the aluminum strip to the cable using specialized equipment, which may involve a combination of extrusion, lamination, and wrapping processes depending on the specific requirements of the cable.
The following will introduce you to the production process of aluminum foil strips for cables:
1. The raw material enters the furnace and heats up to remove impurities;
2. The ingot is cut into thick plates;
3. Put the thick plate into a cold rolling mill for rough rolling;
4. Put it into a hot rolling mill for finishing;
5. Annealing by heating and holding at a certain temperature;
6. Cutting outside by shearing machine;
7. Packaging and transportation
How to search the hs code of aluminum strips for cable armouring?
To find out the detailed HS code of related aluminum strips, you need to determine the specifications and applications of the strips.
The following are the part of aluminum foils strips
HS code:76069100.00
Contact Us For Your Armored Cable Project Today

Talk to an Expert
Discuss Nickel Alloys, Stainless Steels, Aluminum and Copper Strips Foils for Your Project