A reason why this guide explores all the fundamental aspects about precision stainless steel flat strips.
From production, application, advantages, quality standards, packaging to features of steel flat strips, among other critical aspects.
Keep reading to learn more details.
End users' requirements for stainless steel flat strips are becoming increasingly strict in modern days.
Unlike conventional cold rolled stainless steel strips, precision cold rolled stainless steel flat strips usually refer to stainless steel strips with a thickness of less than 0.60mm. And flat strips width is less than 10mm.
As a high-end product in the field of stainless steel, precision flat strips of stainless steel have excellent strength, precision, surface finish and other properties. They are widely used in aerospace, petroleum, precision instrument manufacturing, and springs materials.
What Are The Grades Of Stainless Steel Flat Strips?
As we know, stainless steel flat strips can be slitted by wide stainless steel strips. So the following stainless steel strips grades are also suitable for stainless steel strips projects.
Let us show what are the grades of stainless steel flat strips.
201
Grade 201 stainless steel strip is a lower-cost alternative to the conventional Cr-Ni austenitic stainless steels, such as 304 grade strips. 
202
202 stainless steel strip is one of the 200 series stainless steel strips, and China standard grade is 1Cr18Mn8Ni5N.
301
Good extension ability, 301 stainless steel strip is used for mould products. It can also be hardened at machine speed. Good weldability. Abrasion resistance and fatigue strength are better than 304 stainless steel strip.
304
304 grade is a common material in stainless steel area, with a density of 7.93 g/cm³, which is also called 18/8 stainless steel in the industry. GB standard is 0Cr18Ni9. 304 stainless steel strip has good weldability. These strips products can be used for vessel parts, stainless steel welding pipes, stainless steel flexible hose and corrugated pipe, etc.
304L
It is a variant of 304 stainless steel with lower carbon content, used in occasions where welding is required. The lower carbon content minimizes the precipitation of carbides in the heat-affected zone near the weld, and the precipitation of carbides may cause stainless steel to produce intergranular corrosion (welding erosion) in certain environments.
309S And 310S: 309S stainless steel strip has high chromium and low nickel content, It can be utilized in sulfur containing atmospheres up to 1000 degree. 310S stainless steel strip is austenitic chromium-nickel stainless steel with good oxidation resistance and resistance, corrosion and high temperature resistance.
316Ti
Grade 316Ti stainless steel strip contains a small amount of titanium content. Titanium content is typically only around 0.2% to 0.7%.
316L And 317L: 316L stainless steel strip is almost identical to 316 grade strip.
316L stainless steel strip has lower carbon content imparts even better corrosion resistance than 316. In addition, compared with conventional stainless steel strip, 317L stainless steel strip has higher ductility, stress corrosion resistance, compressive strength and high temperature resistance.
321 And 347: 321 austenitic stainless steel strip has good corrosion resistance in the atmosphere and is widely used in petrochemical, electric power, bridge and automobile industries. 347 stainless steel strip is one of stabilized stainless steel strips which offers as its main feature an excellent resistance to intergranular corrosion following exposure to temperatures in the chromium carbide precipitation up to 800 degree.
409
The cheapest model (British and American), usually used as car exhaust pipe, is a ferritic stainless steel (chrome steel).
410
Martensite (high-strength chromium steel), good wear resistance, poor corrosion resistance.
420J2
420J2, is is also called 3Cr13 steel, one kind of martensitic stainless steel, used after quenching and tempering.
430
Ferritic stainless steel, for decoration, such as car accessories.
2205
2205 stainless steel strip is a duplex stainless steel strip composed of 22% chromium, 2.5% molybdenum and 4.5% nickel-nitrogen alloy.
2507
2507 is a ferritic-austenitic (duplex) stainless steel, which has excellent resistance to pitting corrosion, crevice corrosion and uniform corrosion.
904L
904L stainless steel strip is a low-carbon, high-nickel, molybdenum super austenitic stainless steel.
How To Produce A Stainless Steel Flat Strip?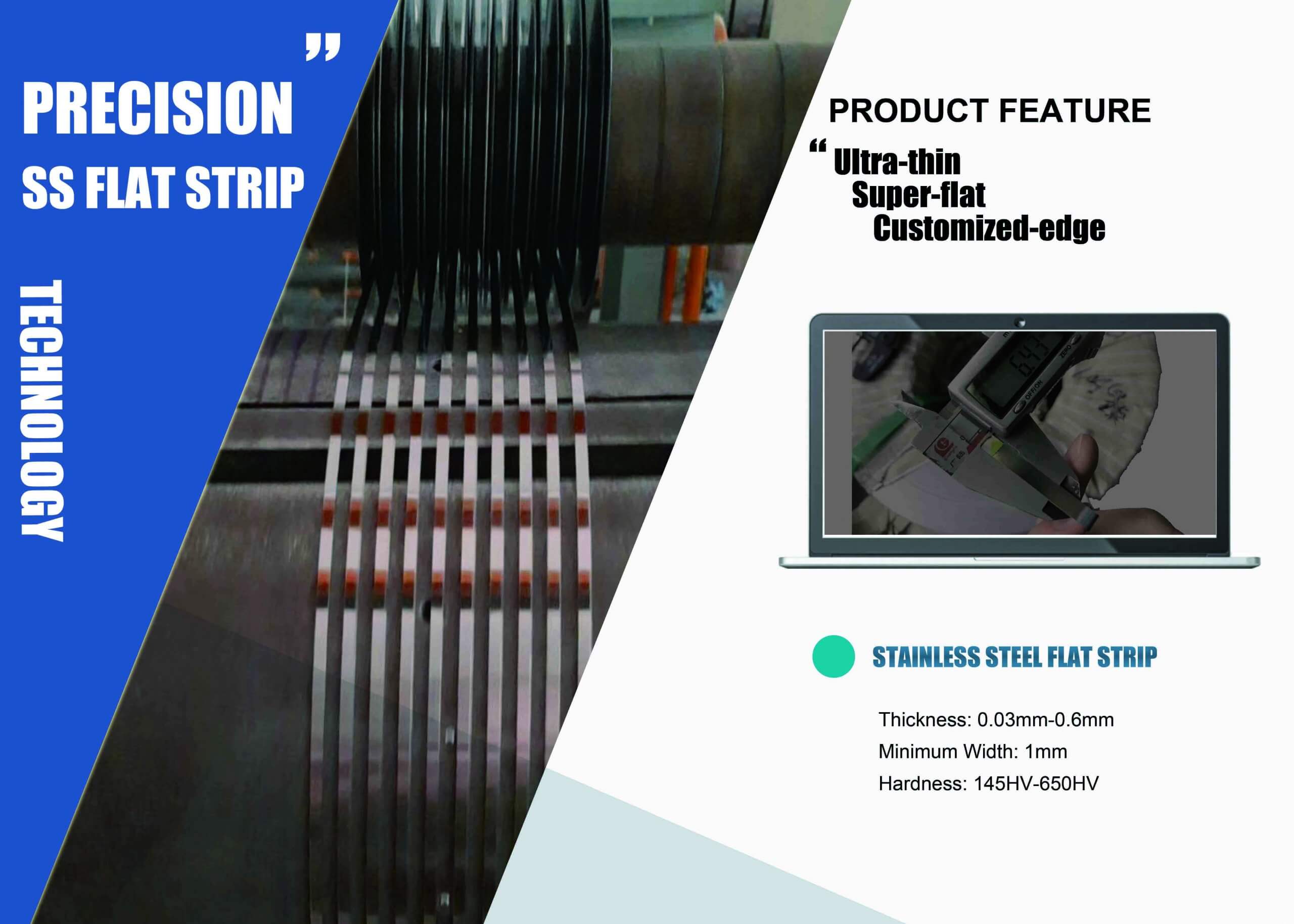 As we know, the stainless steel flat strip is slitting by wide stainless steel strip.
So we can choose the right and precision thickness stainless steel strip for cutting.
The stainless steel flat strips can be also divided into normal austenitic grade, ferritic grade, martensitic grade, duplex grade, precipitation hardening grade and super austenitic grade.
Meanwhile, in a lot of supporting precision demands of electronics manufacturing area, often used precision stainless steel flat foils.
1.Stainless Steel Flat Strip Technical Analysis
Why we should mention this step firstly?
For new buyers, they should know how to buy steel flat strips products from suppliers.
During this business deal, customers should confirm all technical details of flat strips products with suppliers together.
Meanwhile, producers should organize a related technical meeting to analyze technical issues before every stainless steel flat strip new production.
It can help avoid more contract and after-sales problems between clients and factories, to a large extent, still is a good beginning.
Technical analysis includes flat strips products grade, production related standard, precision slitting tolerance control, flat strip hardness, tension strength,slitting edges and special shipping packaging details, etc.
2.Stainless Steel Flat Strip Material Preparation
Our professional staff will help you choose good quality of stainless steel strip material firstly.
Checking details include products thickness tolerance, width of strip coil, surface finish, chemical components, hardness, etc.
3.Stainless Steel Flat Strip Precision Slitting Process
For different thickness of strip coils slitting process, the small precision slitting machines will be used by our professional team.
Our expert team choose the small machines to cut the narrow strip coils as precision stainless steel flat strips. Flat strip thickness is from 0.03mm to 0.6mm.
Our workers will make adjustments between coils and cutting tools when they are preparing to slit in order to minimize the burr of flat strips edge as much as possible.
4.Stainless Steel Flat Strip Inspection Process
We have full inspection and routing inspection during stainless steel flat strips mass production.
Checking the stainless steel flat strips after they are produced carefully.
The advanced inspection and measurement equipment will support every inspection process.
After all end flat strips products are finished, the quality control department deal with the following inspections, such as metallographic analysis, mechanical performance testing, straightness testing, strip shape, surface finish, thickness and width tolerances inspection.
What The Main FAQS Of Stainless Steel Flat Strips Are Customer's Concern?
Here below are the most FAQS before purchasing the stainless steel flat strips. Just follow us and keep reading.
If the stainless steel strips raw materials are ready on our stock, the MOQ of stainless steel flat strip will be less. Even 50kg is workable.
If you need customized flat strips, the trial order MOQ is 1000kgs.
How About One Flat Strip Coil Net Weight?
Each flat strip coil net weight would be from 8kg to 10kg.
We can also help you design and produce more heavy weight of strip as your requirements.
How About Stainless Steel Flat Strip Edges Treatment?
The edge of stainless steel flat strips would be slitting precision and it can be produced as smooth edge or as customers special requirements.
Processing thickness range of flat strip is from 0.03mm to 0.6mm. After slitting process, any width between 1.00mm to 10.00mm can be customized.
Our team members will make adjustments between strips and cutting tools when they are preparing to slit in order to minimize the burr of strips edge as much as possible.
Customized Edge Capabilities:
Slit Edge
Deburred Edge
Round Edge
What Are The Mechanical Properties Of Stainless Steel Flat Strips?
Here HZW take care of every flat strip from clients.
We make sure every flat strip quality and standard before shipment.
Before placing an order to us, we should send you the MTC of steel origin and our related quality certificate documents. Then you can learn more details from it.
How To Pack The Stainless Steel Flat Strips?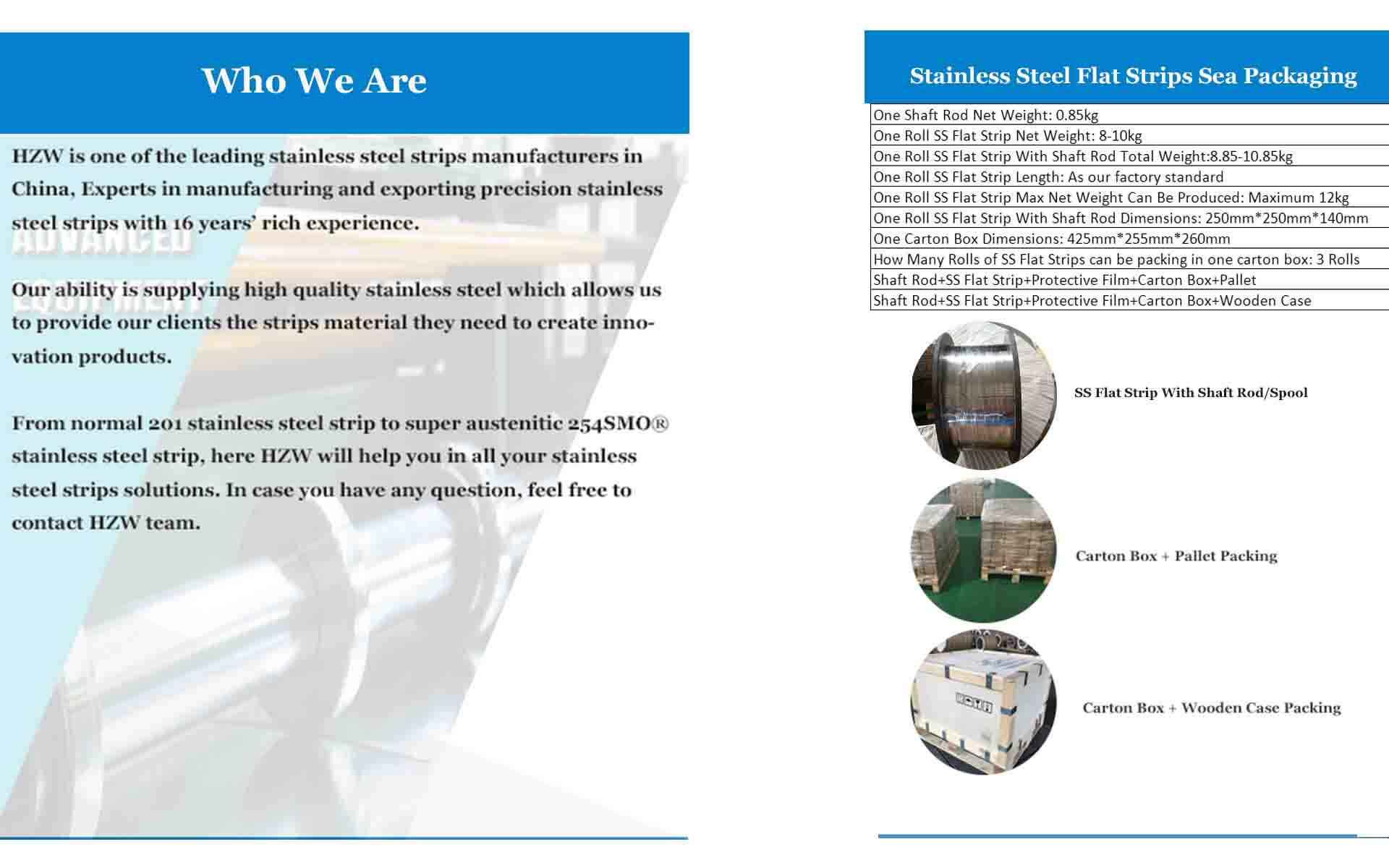 For standard sea packaging, the wooden case and carton box with wooden pallets are the two main types for stainless steel flat strips packaging.
Because of the narrow width of flat strips, so we choose the shaft rod to pack the finished stainless steel flat strips. It is convenient and stable for shipment.
How To Choose Precision Stainless Steel Flat Strips Manufacturers