Precision 301 stainless steel strips have excellent strength, precision, surface finish and other properties.
They are widely used in electronic stainless steel stamping parts.
301 stainless steel strip is the finished product based on 301 mother coil material after cold rolling.
Good ductility, used for forming stainless steel stamping products.
It can also be hardened by mechanical processing with good weldability.
Abrasion resistance and fatigue strength are better than 304 stainless steel strip.
Compared with 304 stainless steel strip, the content of Cr and Ni is lower, and it is magnetic after cold rolling.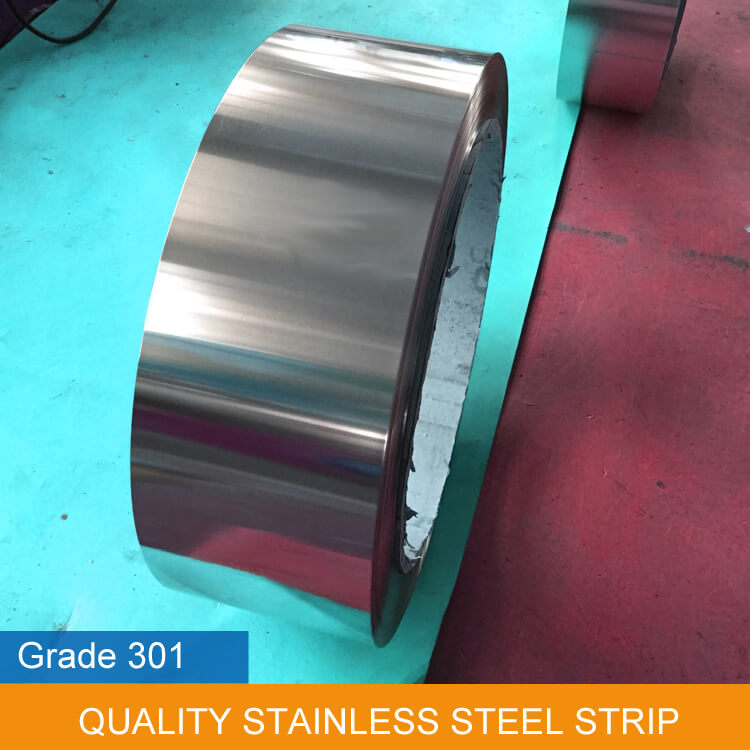 As a high-end product in the field of stainless steel materials, precision 301 cold rolled stainless steel have excellent strength, precision, surface finish and other properties. They are widely used in electronic stamping parts.
At present, the main production processes of 301 cold rolled stainless steel strip include cold rolling, bright annealing, tension straightening and finishing.
What Are Stainless Steel Stamping Parts
Stainless steel stamping parts refer to stamping products made of stainless steel strips materials. The specifications and models of stainless steel are different, and the manufacturers are also different. General stainless steel stamping parts are processed and produced.
Features:
(1) Defects such as high yield point, high hardness, significant cold hardening effect, and cracks.
(2) The thermal conductivity is worse than that of ordinary carbon steel, which leads to large deformation force, punching force and drawing force.
(3) The plastic deformation is severely hardened during deep drawing, and the thin plate is easy to wrinkle or fall off during deep drawing.
(4) The deep drawing mold is prone to adhesion tumors, which can cause serious scratches on the outer diameter of the parts.
(5) It is difficult to achieve the expected shape during deep drawing.
What Are 301 Stainless Steel Strips For Stamping Parts Applications
Depending upon your unique stamping project demands, the 301 stainless steel strips sizes and hardness will be customized.
Common stainless steel stamping uses include aircraft engine manifolds, aircraft parts, furnace fixtures, saw blades, bellows, welded tanks and components, chemical processing equipment, medical devices, precision metal parts, etc.
Advantages Of Using 301 Stainless Steel Strips For Stamping Parts
Fire and heat resistance: Stainless steel that is alloyed with high amounts of chromium and nickel are especially resistant to thermal stress.
Aesthetics: Consumers appreciate the clean, modern look of stainless steel, and it can also be electropolished for improved finish.
Long-term cost-effectiveness: While it may cost more initially, stainless steel endures for decades without a breakdown in quality or appearance.
Sanitary: Trusted by the pharmaceutical and food & beverage industries because it is easy to clean, some stainless steel alloys are also considered food-grade.
Sustainability: Stainless steel is considered one of the most sustainable alloy choices, making it ideal for use in green manufacturing methods.
What's more, 301 stainless steel strips can be used instead of 316L stainless steel strips for the same purpose to save the amount of steel material, which is of great economic significance.
How To Choose 301 Stainless Steel Strips Manufacturers
When it comes to 301 stainless steel strips manufacturing, we get that you need a long term partner, not just a supplier.
Whether you need the small samples or the metal strips solution from start to end, our promise is providing you with the highest quality stainless steel strips, in the shortest delivery time, and at the most competitive price with the highest quality.
HZW is the professional stainless steel strips suppliers and solutions expert.
Our expert team is well versed in several industry fields, making sure there is no error in your every strip stainless steel order.
If you are looking for the quality 301 stainless steel strips suppliers from China, why not contact us here?