301 stainless steel strip is one of the major materials for springs production.
By the end of this blog, you will have full understanding on all aspects of 301 stainless steel strip for springs.
Let's keep reading.
The 301 stainless steel strip has high strength after cold working, which is the first choice for constant force springs manufacturing.
The constant force spring, also known as torsion spring, which is made of 301 stainless steel strip.
The stress can determine the spring diameter, strength and working life.
The action of a constant force spring is similar to the move of stretching a ribbon.
When the spring stretches and rewinds, the working part is tangent to the circle of the spring itself.
As long as the diameter of the spring is constant, the force of the spring is constant.
In an extremely long spring design work, the diameter has an advantage, and the tension increases slightly as the spring stretches.
However, this increased part is relatively small relative to the stretched length and can be ignored in many real life applications.
What Are The Springs Applications?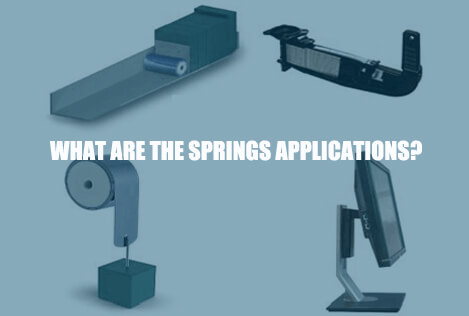 According to the application principle of them, constant force springs can be divided into linear motion constant type and rotary motion constant torque type.  
When linear stretched, the unit of force will be kilogram, N, pound.
Constant force springs can be used for vehicles, automotive industry, counterweights, power sources, power cords, cordless curtains, generator radios and some toys.
What Are The Advantages Of 301 Stainless Steel Strip For Springs?
Austenitic stainless steel strip for springs mainly includes SUS301-CSP and SUS304-CSP.
Compared with 304 stainless steel strip, SUS301 spring steel strip has a slightly lower corrosion resistance, but it is more suitable for spring production with a lower cost.
After the special production process of continuous bright annealing and rolling, which can help achieve good hardness and be suitable for bending processing.
Especially in terms of mechanical properties, 301 spring strip is very good, which is unmatched by manganese steel.
How To Produce One Roll 301 Stainless Steel Strip?
Our high strength precision grade 301 stainless steel strip for springs is available in total annealed condition as well as a variety of hardness choice, such as 1/4 hard, half hard, 3/4 hard, full hard and super extra hard.
The thickness range is from 0.02mm to 3mm.
The maximum hardness of cold rolled 301 stainless steel strip we could produce is up to 630 HV.
Meanwhile, the tensile strength is over 2000 N/mm².
Want to know how to produce 1 roll stainless steel strip?
How To Choose The Right Material Of 301 Stainless Steel Strip From China?
If you are in the constant force spring industry, choosing the right material is one of the basic component in determining the overall function and practical benefits of your project.
Two factors that cannot be ignored when manufacturing the constant force spring. They are application environment and material strength itself. And you should choose the good mill origin of 301 mother stainless steel coils from China market.
301 stainless steel strip has good high elasticity, high tensile strength, high fatigue resistance and good corrosion resistance.
What We Can Do For Your Springs Project?
The knowledgeable engineering experts at leading 301 stainless steel strip for springs manufacturers can help supply precision strip products to deliver optimum performance in any springs application.
Call us any time or email us for more benefits here.
To learn more about stainless steel solutions, visiting the case study here.