Copper Foils Strips For Transformers
Your Premier Transformers Copper Foils Strips Manufacturer
Copper Foils Strips For Transformers
Copper foils strips for transformers are the electrical industry's most versatile materials, and has important advantages for winding transformer conductors.
Copper foil strip is made by rolling copper to a very thin thickness (between 0.0015mm and 0.3mm) and then cold-rolling or hot rolling depending on the required thickness. This can be followed by annealing (for even greater flexibility) and further processed into strips or laminated sheets with insulation materials.
The majority of copper foil is used in the power electronics industry, where it is used in transformers, motors and generators for the windings.
Insulated foils are used in dry-type transformers and small transformers, where they are wound together with insulating materials.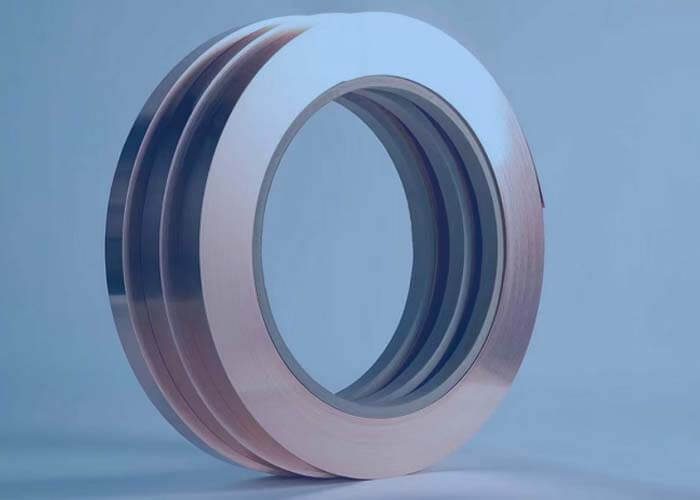 Transformer Winding Copper Foils Strips Global Leading Manufacturer
Ask Free Quote | Get Free Samples
* Indicates a Required Field
Copper Foils Strips For Transformers Specifications
Product Name
Copper foils strips for transformers
Grades
C1100/C11000/Cu-ETP
Temper
Soft
Thickness
0.01mm-3.0mm
Width
Width:5mm-1200mm
Edge
Slit/Round
Quantity Tolerance
±10%
Paper Core Internal
Diameter
Ø 150mm,Ø300mm, Ø400mm, Ø500mm paper core, special internal diameter core and without paper core on
special request
Surface Treatment
Mill finish, the strip has a smooth surface, free from scratches and impurities
Electrical Conductivity

(20℃)(IACS)
≥99.80%
Applications
Transformer winding
Packaging
Wooden Pallet/Wooden Case
Payment Terms
30% TT deposit and 70% balance before shipment, 100% LC at sight
Delivery Time
7-10 working days
MOQ
500 Kgs
Shipping Port
Shanghai/Ningbo port
Sample
The sample of copper foil strip is available
Remark
C1100/C11000/Cu-ETP copper foil strip can be customized
Transformers Winding Copper Foils Strips Technical Specifications PDF Download
This technical specification aims to define the chemical/mechanical properties and standards for soft temper O copper foil strip for transformer winding.
Any hard copy in your possession should be considered not up-to-date. Contact with HZW Quality Department for up-to-date document.
More technical specifications of transformer winding temper O copper foils strips, please click the right button for PDF file download.
How Copper Foils Strips For Transformers Winding Are Made?
Copper foils strips for transformers winding production process is to use the continuous casting and rolling method to produce long copper strips with a thickness of 0.2mm-1.2mm.
The general production process of copper foil strips is:
1.Copper ingot cast into semi-finished product;
2.The semi-finished product is rolled into a finished product;
3.The finished product is annealed, and then annealed, bundled according to specifications, and aged;
4.Use appropriate packaging for storage or transportation.
Copper Foils Strips For Transformers Grades
Copper foil is one of the main materials for producing transformers. As an important electronic device, the transformer will convert one voltage to another voltage. The two coils are called primary coil and secondary coil.
Copper foils strips for transformers winding grades are as follows:
ETP Grade (Electrolytic Tough Pitch)
T2 Grade
C11000, C12200, C26000, etc.
Copper Foils Strips For Transformers: The Ultimate Guide
Copper foils have been used for electrical applications for more than a hundred years, and the process to make them is relatively straightforward.
This guide will cover what you need to know about choosing the best copper foil strip for your transformer's project needs, including:
What are transformers copper foils strips?
Why use copper foil strips instead of other conductors?
How are copper foil strips made?
How are copper foil strips used in transformer winding?
Want more? Let's keep reading!
What are transformer copper foils strips?
The transformer copper foils strips are the most important part of the transformer manufacturing.
It is mainly used to connect with the transformer core and output terminals.
The foil strip made of high-quality oxygen-free copper, which has good conductivity, has small contact resistance and low temperature rise, and can effectively reduce power loss and ensure long-term stable operation of the transformer.
By using high-quality insulated materials such as polyester film, polyesterimide film and polypropylene film, the transformer copper foils strips can be made into a double-sided coated product by vacuum coating technology.
It has good electrical insulation performance and high mechanical strength. It can meet the requirements of winding in transformers under different voltage grades.
Transformer copper foil is the first and important process of transformer manufacturing. It is not only the basic raw material for producing transformer windings, but also an important part to determine its quality.
The size, shape and thickness of the copper foil are directly related to the process properties of the transformer.
The transformer copper foil refers to a kind of special rectangular copper strip with specific width, thickness and length.
The surface of such strip is relatively smooth and flat, and its cross section is usually rectangular or trapezoidal.
The production method of this strip mainly includes cold rolling method, hot rolling method and casting method.
In addition to being used in power transformers, copper foil strips are also used in current transformers, instrument transformers and other products that require precise winding requirements.
What are the applications that copper foils strips for transformers can be used?
Transformer copper foil strip has high quality, stable performance and good price.
Therefore, it is widely used in the production of transformer winding.
Transformer winding refers to the process that windings made by transformer copper foil strips are wound on the core body or coil frame.
There are also some other common applications of transformer copper foil strip below.
PCB industry: It is applied to the manufacturing of printed circuit boards (PCBs) which are used in various electronic products.
Radial lead inductors: The radial lead inductors use copper foil strips to wind the coils. They apply to electrical equipment such as telecommunications devices (telephones, fax machines).
Copper foil tape: Copper foil tape uses copper foil strips as raw materials, and it has a wide range of applications in the field of electromagnetic shielding and grounding.
Copper belt: The copper belt is a thin belt made by rolling a thin layer of pure copper on the surface of auxiliary material with a certain thickness. It is widely used for making flexible printed circuit board (FPC) and other electronic products.
What are the advantages of using copper foils strips for transformers?
Transformer copper foils strips are used to make transformers and other related products that use copper conductors. The purpose of the transformer is to change the voltage or phase of an alternating current, while the phase-shifting transformer is used to introduce a constant phase shift between the input and output circuits.
Here are some of the benefits of using these foils:
High conductivity – With a good electrical conductivity, you can be assured that your transformer will work properly.
Low thermal resistance – This reduces the chances of a fire because it helps ensure that all parts remain cool during operation.
Durable – They are made from materials that can withstand high temperatures and stresses, which makes them more durable than other types of foils.
Cost effective – These types of foils are more affordable than some other options on the market today, which makes them a great option for anyone looking to save money on their project.
How to buy copper foils strips for transformers?
If you want to buy copper foils strips for transformers, you should know, there are many suppliers and manufacturers produce copper foils and supply to many industries like transformer industry.
But in fact, not all the suppliers have the ability to produce good quality products, some of them just choose cheaper materials but with high price which is not a good choice for users.
Here is a quick guide on how to choose a good supplier.
First, you should ask the manufacturer whether they can do the inspection themselves before delivery. Most of the large manufacturers have their own inspection team, they will strictly inspect all the goods before delivery.
Second, you should ask if they use 100% pure raw material to produce your goods, because there are some suppliers use recycled raw material or mixed raw material which may cause problem during using.
Third, it is better to visit their factory by yourself and check the production line and warehouse by yourself. It will be great if you can check their production process and production equipment. Because it is very important for you to know how they control the quality from process till delivery.
What is copper foils strips for transformers hardness?
The typical Vickers hardness for the strip material must determinate after annealing process (Hardness Vickers Typical: 45-65HV).
What is the packaging standard of copper foils strips for transformers?
Copper foil strip is the main raw material used to produce transformer winding. The quality of copper foil strips directly affects the reliability of transformer winding.
Small rolls of copper foil strips are generally packaged in moisture-proof paper, large rolls are generally covered with waterproof plastic film or kraft paper, and then packed with wooden frame or steel frame.
Copper foil strips should be stored in a dry and ventilated place. It is strictly forbidden to contact with corrosive gases such as acid and alkali, corrosive liquids and hydrochloric acid, so as not to cause corrosion of copper foil strips. During transportation, it is necessary to use a moisture-proof method to prevent rain from wetting.
Copper foil length of each roll should be same, packaging mark should have clear and complete information.
Wooden Pallet: Standard export package, no fumigation; Pallet size: 1.1m x 1.1m x 0.8m; Gross weight: 1 Ton; 4 pallets/20′ FCL; 8 pallets/40′ FCL Or as per customer's requirements.
Wooden Box: The standard export package with fumigation certificate, it can avoid any potential damage during the transportation.
How C11000 O temper copper foils strips for transformers winding are made?
How to search the hs code of copper foils strips for transformers?
To find out the detailed HS code of related copper strips, you need to determine the specifications and applications of the strips.
The following are the part of copper foils strips for transformers
HS code:74091190.00
Contact Us For Your Transformer Winding Project Today

Talk to an Expert
Discuss Nickel Alloys, Stainless Steels, Aluminum and Copper Strips Foils for Your Project