Hastelloy Alloy C-276 Foil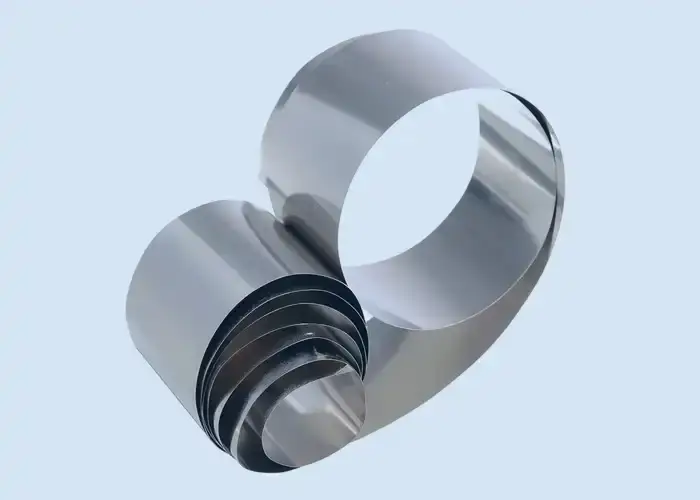 Hastelloy Alloy C-276 Foil Supplier in China
As a professional nickel alloy strip foil supplier in China, HZW produces high quality Hastelloy alloy C-276 foil according to our customers' requirements.
Hastelloy C-276 foil is a high performance thin nickel alloy strip. It has very good overall corrosion resistance. It is also called UNS N10276 strip foil.
Hastelloy® C-276 alloy foil is widely used in many industrial and commercial applications.
We produce Hastelloy C-276 foil strictly according to ASTM B575.
Hastelloy Alloy C-276 Foil Specifications
Product Name
Hastelloy Alloy C-276 Foil
Grades
Hastelloy C-276
Hardness
70-90HRB
Thickness
0.03mm-0.10mm
Width
1.0mm-650mm
Edge
Slit/Deburred/Round
Quantity Tolerance
±10%
Paper Core Internal Diameter
Ø 200mm, Ø300mm, Ø400mm, Ø500mm paper core, special internal diameter core and without paper core on customer request
Surface Finish
The alloy C-276 strip foil has a smooth surface, free from scratches and impurities
Applications
Pressure Vessels
Reactors
Mixers and Agitators
Scrubbers
Dampers
Heat Exchangers
Evaporators
Solvent Recovery Plants
Pumps and Valves
Packaging
Wooden Pallet/Wooden Case
Payment Terms
30% TT deposit and 70% balance before shipment, 100% LC at sight
Delivery Time
15-20 working days
MOQ
500 kgs
Shipping Port
Shanghai/Ningbo port
Sample
The sample of nickel alloy C-276 foil is available
Remark
Nickel alloy C-276 foil can be customized
Hastelloy Alloy C-276 Foil Chemical Compositions
The chemical components of grade Hastelloy C-276 is summarized in the following table:
| | | | | | | | | | | | | |
| --- | --- | --- | --- | --- | --- | --- | --- | --- | --- | --- | --- | --- |
| % | Ni | Cr | Mo | W | Co | C | Mn | Si | P | S | Fe | V |
| Min | Balance | 14.5 | 15 | 3 | 0 | 0 | 0 | 0 | 0 | 0 | 4 | 0 |
| Max | Balance | 16.5 | 17 | 4.5 | 2.5 | 0.01 | 1 | 0.08 | 0.04 | 0.03 | 7 | 0.35 |
Hastelloy Alloy C-276 Foil Mechanical Properties
| | | | | | |
| --- | --- | --- | --- | --- | --- |
| Element | Yield Strength (0.2%Offset) | Melting Point | Density | Tensile Strength | Elongation |
| Hastelloy C-276 | Psi – 52,000 , MPa – 355 | 1370 °C (2500 °F) | 8.89 g/cm3 | Psi – 1,15,000 , MPa – 790 | 40 % |
How About Hastelloy Alloy C-276 Foil Production Process?
Raw Material Selection: The first step is to carefully select the appropriate raw materials for producing Hastelloy C-276 alloy. The alloy composition typically consists of nickel, molybdenum, chromium, and small amounts of other elements like iron, tungsten, and cobalt.
Melting and Alloying: The selected raw materials are then melted together in a controlled environment, such as an electric arc furnace or a vacuum induction furnace. This melting process ensures thorough alloying of the components to achieve the desired composition of Hastelloy C-276.
Casting: Once the molten alloy is properly alloyed, it is cast into a desired shape, such as large ingots or billets. The casting process helps to solidify the alloy in a form that can be further processed.
Hot Rolling: The cast ingots or billets are reheated and passed through a series of hot rolling mills. The hot rolling process reduces the thickness of the material and increases its length and width to produce a strip with the desired dimensions. The rolling process may involve multiple passes to achieve the desired thickness and uniformity.
Cold Rolling: After hot rolling, the strip may undergo additional cold rolling processes to further refine its thickness, improve its surface finish, and enhance its mechanical properties. Cold rolling involves passing the strip through a set of rollers at room temperature, gradually reducing its thickness while maintaining its shape and dimensions.
Annealing: The cold-rolled strip is then subjected to an annealing process, which involves heating the material to a specific temperature and holding it there for a controlled period. Annealing helps relieve internal stresses and promotes grain growth, resulting in improved ductility and desired mechanical properties.
Finishing: The annealed strip may undergo additional processes such as surface cleaning, leveling, and slitting to achieve the final dimensions, smoothness, and flatness required for the specific application.
Quality Control and Testing: Throughout the production process, various quality control measures are implemented to ensure that the Hastelloy C-276 alloy strip foil meets the required specifications. Testing methods such as chemical analysis, mechanical property evaluation, and non-destructive testing may be employed to verify the quality and performance of the material.
Hastelloy Alloy C-276 Foil: The Ultimate Guide
When you choose to buy quality Hastelloy alloy C-276 foil, there have some important points we need to know before we get started.
What are Hastelloy alloy c-276 foils?
Hastelloy® C-276 alloy foil is a nickel-molybdenum-chromium wrought alloy material. It is also called UNS N10276 foil.
The alloy is resistant to pitting, crevice corrosion, and stress corrosion cracking.
Hastelloy® C-276 foils are produced strictly to the default ASTM B575 standard.
Hastelloy® C-276 foil is commonly used for pollution control equipment because of its excellent resistance to atmospheric corrosion.
HASTELLOY® is a registered trademark of Haynes International Inc.
Hastelloy alloy c-276 foil application
Chemical process industry
Flue gas desulfurization units
Pickling equipment in the steel industry
Waste incineration plants
Seawater desalination plants
Flue gas scrubbing facilities
Pharmaceuticals
Heat exchangers
What are hastelloy alloy c-276 foils?
Different edges will be used for different applications. We can help end users deal with below edges types:
1.Slit
2.Deburred
3.Round
How to buy hastelloy alloy c-276 foil from China?
Therefore, if you want to buy Hastelloy C-276 alloy strip foil at lower price with high quality and good service from China suppliers, you need to know how to buy nickel alloy strips from China firstly.
First of all, you should choose a reliable supplier who can provide good quality nickel alloy coils products at competitive prices. Then you can negotiate with them on price and other terms until reaching an agreement.
Secondly, you need to check whether they have advanced production equipment or not because if they do not have advanced equipment for producing various kinds of coils including nickel alloy coils or if their production capacity is limited then it would be difficult for them to supply high quality products at competitive prices all year round.
Thirdly, it is better to visit their factory by yourself and check the production line and warehouse by yourself. It will be great if you can check their production process and production equipment. Because it is very important for you to know how they control the quality from process till delivery.
What is the standard sea packaging of hastelloy alloy c-276 foil?
Standard export sea packaging:
Waterproof Paper Winding+PVC Film+Strap Banding+Wooden Pallet or Wooden Case;
Customized packaging as your request (Logo or other contents accepted to be printed on the packaging);
Other special packaging will be designed as customer's request;
Eye to wall and eye to sky are both available;
By International Express: DHL/UPS/FEDEX/EMS and our own express line;
By air or By sea;
Shipping port: Shanghai, Ningbo or as your request.

Talk to an Expert
Discuss Nickel Alloys, Stainless Steels, Aluminum and Copper Strips Foils for Your Project