Aluminiumremsor för kabelarmering
Your Premier Aluminum Strips For Armored Cable Manufacturer in China
Aluminiumremsor för kabelarmering
Aluminum strip is a type of metal strip that is commonly used for cable armouring applications. Cable armor is a protective layer used to shield cables from external factors such as mechanical damage, moisture, and other environmental hazards.
Aluminum strip is an ideal material for cable armouring due to its high strength-to-weight ratio, excellent resistance to corrosion, and its ability to be easily shaped and formed to fit the cable. In cable armouring applications, the aluminum strip is typically wound around the cable in a spiral formation, providing an additional layer of protection against damage.
Whatever size at whatever tight tolerance of aluminum strips you demand, HZW här har säkert det!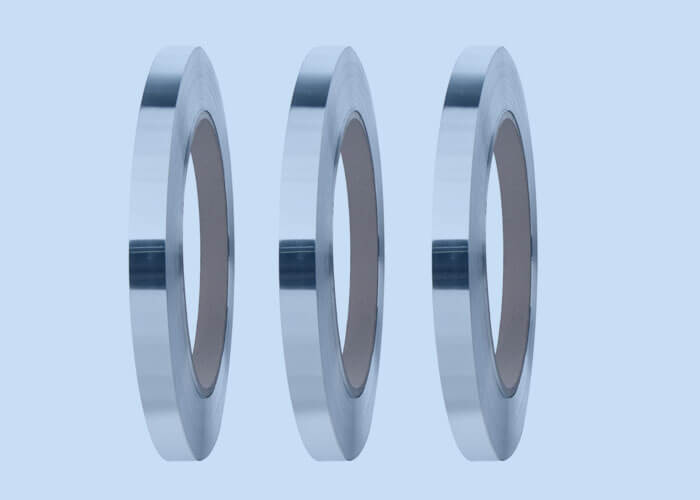 Armored Cable Aluminum Strips Global Leading Manufacturer
Fråga gratis offert | Få gratis prover
* Anger ett obligatoriskt fält
Aluminum Strips For Cable Armouring Specifications
produktnamn
Aluminiumremsor för kabelarmering
Betyg
5052, 1060
Humör
O,

H24

,

H32

Tjocklek
0.4

mm-2.0mm

Bredd
9.5mm, 12.7mm, 19mm, 25.4mm,

max 1250mm

Kant
Slits/Rund
Kvantitetstolerans
±10 %
Papperskärna intern
Diameter
150mm, 200mm, 300mm, 400mm, 508mm, etc.
Ytbehandling
Remsan har en slät yta, fri från repor och orenheter
Elektrisk konduktivitet
Mer än 30% IACS.
Ansökningar

For cable armouring

Produktionstolerans
Träpall/Träfodral
Betalningsvillkor
30% TT insättning och 70% balans före leverans, 100% LC i sikte
Leveranstid
7-10 arbetsdagar
MOQ
500 Kgs
Utskeppningshamn
Shanghai/Ningbo hamn
Prov

The sample of Aluminium strip is available

Anmärkning
Aluminiumfolieremsa kan anpassas
5052 Aluminiumremsor för kabelarmering
Aluminum Strips For Cable Armouring Grades
Aluminum strips for cable armoring can be classified into different grades based on their chemical composition, mekaniska egenskaper, och andra egenskaper. The most commonly used grades for aluminum strips for cable armoring are:
1xxx Series: These are pure aluminum grades with a minimum aluminum content of 99%. These grades are soft, ductile, and have excellent corrosion resistance. i alla fall, they have low strength and are not suitable for heavy-duty cable armoring applications.
5xxx Series: These grades contain magnesium as the main alloying element, with a minimum aluminum content of 95%. These grades have excellent strength and formability and are suitable for heavy-duty cable armoring applications.
The specific grade of aluminum strip used for cable armoring will depend on the application requirements, such as the cable size, weight, and the level of protection needed.
Aluminum Strips For Cable Armouring Chemical Composition
Kvalitet 1060

O Aluminum Strips Chemical Composition

(%)
Element
Al
Och
Fe
Mg
Zn
Mn
Du
Med
V
Standardvärde
≥99,6
0.0431
0.203
0.0013
0.0093
0.0104
0.02
0.0022
0.0039
Kvalitet 5052

H24 Aluminum Strips Chemical Composition

(%)
Legering
Och
Fe
Med
Mn
Mg
Cr
Zn
Ni
Du
Övrig
Al

Each

Total

5052
0.4
0.25
0.1
0.5
2.6-3.6
0.3
0.07
–
0.15
0.03
–

balance
Aluminum Strips For Cable Armouring Edges Options
Many products managers and engineers have the trouble of cable armouring aluminum foils remsor kanter.
I själva driftprocessen, på grund av inverkan av stålbandshårdhet och avlastningshastighet, it is difficult to effectively control the edge of the aluminum foil strip.
i alla fall, efter att vår tekniska personal har studerat länge, vi har hittat en lösning på detta problem. Kantbearbetningen av våra aluminiumfolieremsor ska uppfylla kraven i figurerna.
Aluminiumremsor för kabelarmering: Den ultimata guiden
Aluminum strips are one of the most important metal materials in cable manufacturing industry.
Med utvecklingen av vetenskap och teknik, more and more aluminum foil strips are widely used in the cable industry.
Så vad är applikationen? What's the production process of aluminum foil strips for cables?
I den här guiden, vi kommer att visa dig detaljer om allt.
What are aluminum strips for cable armouring

?
Armored cables consist of conductive material encased in an insulating material and processed to create a flexible, solid combination.
The armor layer is divided into two types: a metal layer and a metal wire layer.
Aluminum armored cables are part of the metal belt category of armored cables and are produced using machines that arm them with aluminum strips to protect them from damage.
The metal layer is typically made of steel or aluminum to prevent mechanical damage to the power cable during installation.
To meet the application requirements of the armored cable, the outer protective layer is made of an alloy-sheathed aluminum strip.
The aluminum strip can be customized according to customer requirements of different widths and thicknesses.
What are the advantages of using aluminum strips for type AC armoured clad cable

?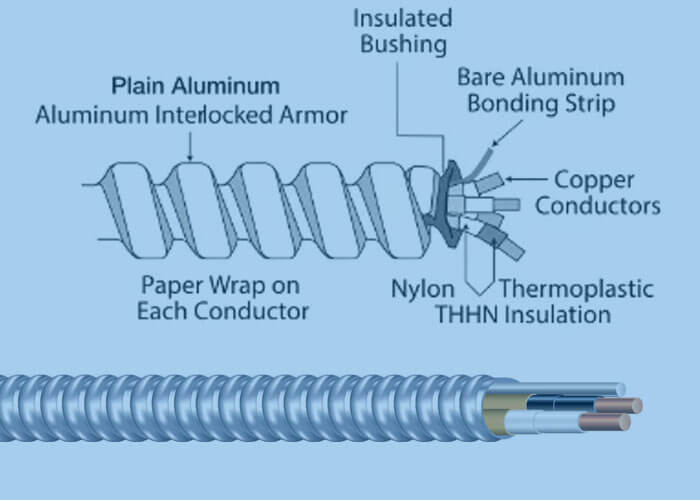 Constructed using cutting-edge rolling mills, advanced control systems, and specialized coiling technology, these armored cables are state-of-the-art.
Armoring equipment manufacturers endorse and recommend these cables.
Armored cables, reinforced with aluminum strips, play a crucial role in maintaining the stability and security of power and communication systems. As more large-scale projects such as mineral extractions, underground installations, and submarine applications rely on armored cables, the use of armored aluminum strips in the armor layers is becoming increasingly widespread.
The aluminum strip armor layer effectively withstands external pressure, protecting the cable, inner lining, and internal structure, thereby reducing the risk of electric and insect corrosion. This prolongs the service life of both the cable and optical cable.
How to buy aluminum strips for cable armouring

?
If you want to buy aluminum strips for cable armouring, du borde veta, there are many suppliers and manufacturers produce aluminum strips foils and supply to many industries like cable industry.
Men egentligen, inte alla leverantörer har förmågan att producera produkter av god kvalitet, några av dem väljer bara billigare material men med högt pris vilket inte är ett bra val för användarna.
Här är en snabbguide om hur du väljer en bra leverantör.
Först, du bör fråga tillverkaren om de kan göra inspektionen själva innan leverans. De flesta av de stora tillverkarna har ett eget inspektionsteam, de kommer att strikt inspektera alla varor före leverans.
Andra, du bör fråga om de använder 100% ren råvara för att producera dina varor, eftersom det finns vissa leverantörer som använder återvunnet råmaterial eller blandat råmaterial som kan orsaka problem vid användning.
Tredje, det är bättre att besöka deras fabrik själv och kontrollera produktionslinjen och lagret själv. Det kommer att vara bra om du kan kontrollera deras produktionsprocess och produktionsutrustning. För det är väldigt viktigt för dig att veta hur de kontrollerar kvaliteten från process till leverans.
What is aluminum strips for cable armouring hardness

?
Den typiska Brinell-hårdheten för bandmaterialet måste bestämmas efter glödgningsprocessen (Hårdhet Brinell Typisk: 18HB).
What is the packaging standard of aluminum strips for cable armouring

?
The packing for aluminum strips for cable armouring is mainly about wooden pallet and wooden box.
Aluminiumfolielängden på varje rulle ska vara densamma, förpackningsmärket bör ha tydlig och fullständig information.
Träpall: Standard exportpaket, ingen gasning; Pallstorlek: 1.1m x 1,1 m x 0,8 m; Bruttovikt: 1 Din; 4 pallar/20′ FCL; 8 pallar/40′ FCL Eller enligt kundens krav.
Trälåda: Standardexportpaketet med rökningscertifikat, det kan undvika eventuella skador under transporten.
How aluminum strips for cable armouring are made

?
Aluminum strips for cable armoring are typically produced using a process called continuous casting and rolling. The process begins with aluminum ingots that are melted and poured into a casting machine, where they are shaped into a slab of the desired thickness.
The slab is then heated and passed through a series of rolling mills to reduce its thickness to the required dimensions. At this stage, the aluminum may also be heat-treated to improve its strength and ductility.
Once the aluminum strip has been rolled to the desired thickness, it is coiled and transported to the armoring equipment manufacturer for further processing. The manufacturer will typically apply the aluminum strip to the cable using specialized equipment, which may involve a combination of extrusion, lamination, and wrapping processes depending on the specific requirements of the cable.
The following will introduce you to the production process of aluminum foil strips for cables:
1. Råmaterialet kommer in i ugnen och värms upp för att avlägsna föroreningar;
2. Götet skärs i tjocka plattor;
3. Lägg den tjocka plåten i ett kallvalsverk för grovvalsning;
4. Lägg den i ett varmvalsverk för efterbehandling;
5. Glödgning genom uppvärmning och hållning vid en viss temperatur;
6. Kapning utomhus med klippmaskin;
7. Förpackning och transport
How to search the hs code of aluminum strips for cable armouring

?
För att ta reda på den detaljerade HS-koden för relaterade aluminiumremsor, du måste bestämma specifikationer och tillämpningar för remsorna.
The following are the part of aluminum foils strips
HS-kod:76069100.00
Contact Us For Your Armored Cable Project Today

Prata med en expert
Diskutera nickellegeringar, Rostfritt stål, Aluminium- och kopparremsfolier för ditt projekt