304 Stainless Steel Strip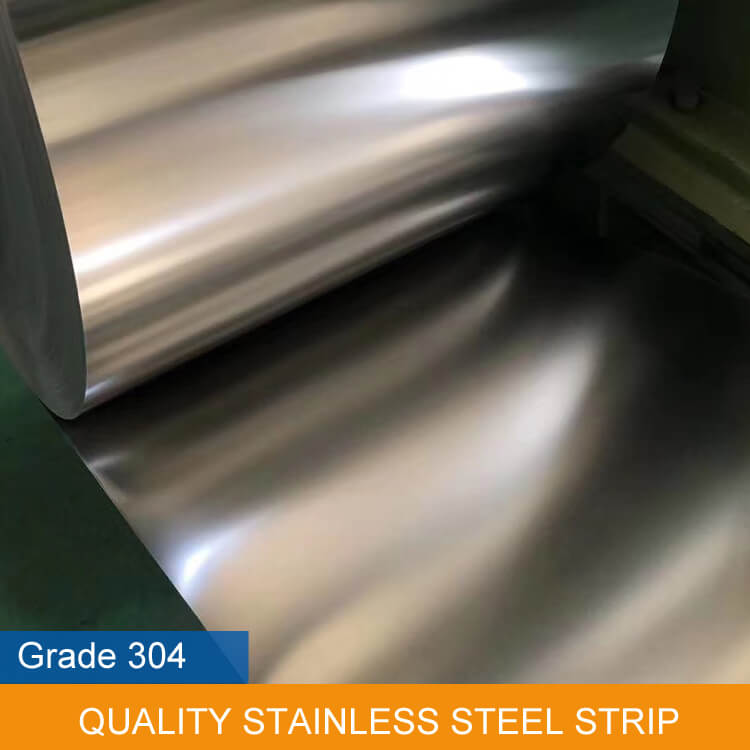 304 Stainless Steel Strip
Quality Stainless Steel Strip Grade:
ASTM 304
JIS SUS304
EN 1.4301
304 Stainless Steel Strips Technical Specifications PDF Download
This technical specification aims to define the chemical/mechanical properties and standards for cold rolled grade 304 stainless steel strips.
Any hard copy in your possession should be considered not up-to-date. Contact with HZW Quality Department for up-to-date document.
More technical specifications of grade 304 stainless steel strips, please click the right button for PDF file download.
304 Stainless Steel Strip Features
Weldability: 304 stainless steel strip has good weldability. These strips products can be used for vessel parts, stainless steel welding pipes, stainless steel flexible hose and corrugated pipe, etc.
Heat Resistance: Heat resistance means that 304 stainless steel strip can still maintain its excellent physical and mechanical properties at high temperatures conditions.
Corrosion Resistance: When the amount of chromium atoms in the steel is not less than 12.5%, the electrode potential of the steel can be abruptly changed from a negative potential to a positive electrode potential. Prevent electrochemical corrosion.
Prime Quality, Precision Feature
When it comes to 304 grade stainless steel strips manufacturing, we get that you need a long term partner, not just a supplier. Whether you need the small samples or the metal strips solution from start to end, our promise is providing you with the highest quality stainless steel strips, in the shortest delivery time, and at the most competitive price with the highest quality.
As the precision stainless steel strips manufacturing expert, we do the tight tolerance, every work that it is challenging. You just provide us an coming idea, we help turn it into actual product for you!
What We Do For Your 304 Stainless Steel Strips Projects?
Whether your project of 304 stainless steel strips is large or small, HZW commits all our management supply chain resources to ensure your project meets your expectations.
We take pride in our Just-in-Time record. Our team are dedicated to manufacturing your stainless steel strips to your specifications every time.
We recognize that quality and service are not enough, here we are committed to you. We aren't satisfied until you are. After all, your strips project success is our success.
304 Stainless Steel Strip Applications
304 stainless steel strip is the most widely used chromium-nickel stainless steel strip.
It has good corrosion resistance, heat resistance, low temperature strength and mechanical properties.
This strip has good hot workability such as stamping and bending without heat treatment. It is resistant to corrosion in the atmosphere.
It is suitable for food processing line, storage and transportation, plate heat exchangers, bellows, household products, auto parts, medical appliances, building materials, chemicals industry, food industry, agriculture, ship parts, etc.
304 stainless steel is a nationally recognized food grade stainless steel material.
304 Stainless Steel Strip Chemical Composition
The chemical components of grade 304 stainless steel strip is summarized in the following table:
| | | | | | | | | | |
| --- | --- | --- | --- | --- | --- | --- | --- | --- | --- |
| Grade | Standard | C | Si | Mn | P | S | Cr | Ni | Mo |
| 304 | ASTM A240 | ≤0.07 | ≤0.75 | ≤2.00 | ≤0.045 | ≤0.030 | 18.00-20.00 | 8.00-11.00 | – |
304 Stainless Steel Strip Mechanical Property
Below The Table Is For Your Reference:
Grade
EN Grade
Yield
Strength Rp0.2
(N/mm²)
Tensile Strength Rm
(N/mm²)
Hardness
Vickers Hardness
(HV)
Elongation
A80 %
Min.
304
1.4301
≥205
≥520
ANN
Max200
≥40
≥450
≥700
1/4 Hard
220-250
≥20
≥700
≥850
1/2 Hard
250-310
≥8
≥880
≥1000
3/4 Hard
310-370
≥4
≥1020
≥1150
Full Hard
≥370
≥1
304 Stainless Steel Strip Production Tolerance
Below The Table Is For Your Reference:
Thickness Tolerance:
| Thickness(mm) | Width<125mm | 125mm≤Width<250mm | 250mm≤Width<600mm |
| --- | --- | --- | --- |
| ≥0.03-0.10 | ±0.06T | ±0.10T | ±0.10T |
| ≥0.10-0.15 | ±0.01 | ±0.015 | ±0.020 |
| ≥0.15-0.20 | ±0.015 | ±0.020 | ±0.025 |
| ≥0.20-0.25 | ±0.015 | ±0.020 | ±0.025 |
| ≥0.25-0.30 | ±0.018 | ±0.025 | ±0.030 |
| ≥0.30-0.40 | ±0.020 | ±0.025 | ±0.030 |
| ≥0.40-0.50 | ±0.025 | ±0.030 | ±0.040 |
| ≥0.50-0.60 | ±0.030 | ±0.030 | ±0.040 |
| ≥0.60-0.80 | ±0.030 | ±0.040 | ±0.040 |
| ≥0.80-1.00 | ±0.030 | ±0.040 | ±0.050 |
| ≥1.00-1.20 | ±0.040 | ±0.050 | ±0.050 |
| ≥1.20-1.50 | ±0.050 | ±0.060 | ±0.060 |
| ≥1.50-2.00 | ±0.060 | ±0.070 | ±0.070 |
| ≥2.00-2.50 | ±0.070 | ±0.070 | ±0.080 |
| ≥2.50-3.00 | ±0.080 | ±0.080 | ±0.090 |
Surface Finishes for 304 Stainless Steel Strip
Stainless steel strip is used in many industries. Many manufacturers are in fact, utilizing surface finishes for 304 stainless steel strip to achieve different results. If you are unfamiliar with surface finishes for 304 stainless steel strip, then this guide is for you.
BA (Bright Annealed):Sometimes specified as "Bright Annealed Stainless Steel", is a bright, cold-rolled, reflective finish retained by final annealing in a controlled atmosphere furnace. It is highly reflective and has the same appearance as a mirror. A final light rolling pass through polished rolls produces a smooth, reflective surface, excellent for decorative applications.
2B Finish:Cold rolled, heat treated, pickled, pinch passed. The most common cold rolled mill finish. Dull grey slightly reflective finish. Can be used in this condition or frequently is the starting point for some polished finishes.
2D Finish:A dull finish that is produced by cold rolling followed by annealing and descaling. Used in deep drawn objects which are often polished after fabrication.
Polishing Bright Finish:Mechanical Polishing: This process removes surface imperfections caused by grinding and other processing operations. In addition, it provides a moderate degree of luster to the surface which can be further enhanced by subsequent buffing operations using grease or oil emulsions with rouge or aluminum oxide compounds.
304 Stainless Steel Strip Edges Options
Many products managers and engineers have the trouble of 304 stainless steel strips edges.
In the actual operation process, due to the influence of steel strip hardness and unloading speed, it is difficult to effectively control the edge of the 304 foil strip.
However, after our technical personnel have studied for a long time, we have found a solution to this problem. The edge finishing of our 304 strips shall meet the requirements.
304 Stainless Steel Strip Hardness
The typical Vickers hardness for the strip material must determinate after annealing process (Hardness Vickers Typical Range: 160HV-600HV).
But the soft materials of 304 stainless steel strip Vickers hardness is from 160HV to 190HV.
What are The Advantages of Using 304 Stainless Steel Strips
304 is one of the most popular stainless steel materials, and it has good corrosion resistance because it has 18% chromium and 8% nickel content.
When selecting stainless steel materials for various industries, 304 stainless steel strips are often chosen because of their many advantages.
The following are the advantages of 304 stainless steel strips:
The main component of the stainless steel band is 304, which can be used as a decorative tube, industrial tube, and some shallow stretched products. Because it has better processing properties than 201 and 304L, it can be more widely used in production;
The 304 stainless steel strip has high plasticity, toughness and cold deformation ability, and is not easy to form a hardening tendency during work;
The intergranular corrosion resistance of the 304 stainless steel strip is good after welding or after the stress relief treatment;
The heat treatment of 304 stainless steel strip can get good mechanical properties such as high strength and toughness;
Different finish treatments can be given to the surface of 304 stainless steel strip to obtain excellent surface conditions such as bright surface or mirror surface;
Excellent corrosion resistance in different environments such as atmospheric corrosion resistance, seawater corrosion resistance and high temperature oxidation resistance.
How 304 Stainless Steel Strips are Made
For 304 stainless steel strip production process, here you will be able to get a clear understanding of how to manufacture it with precision excellence technology:
Technical Analysis
Raw Material Preparation
Rolling And Bright Annealing Process
Degrease Cleaning Process
Tension Straightening Process
Slitting Process
Inspection Process
Packaging Process
How To Produce 0.15mm Thickness 304 Stainless Steel Strip?
304 Stainless Steel Strip Packaging
Our company have professional team who can adopt developed packaging technology to assure no any damages of products during transportation.
Standard export packaging:
Waterproof Paper Winding+PVC Film+Strap Banding+Wooden Pallet or Wooden Case;
Customized packaging as your request (Logo or other contents accepted to be printed on the packaging);
Other special packaging will be designed as customer's request;
Eye to wall and eye to sky are both available;
By International Express: DHL/UPS/FEDEX/EMS and our own express line;
By air or By sea;
Shipping port: Shanghai, Ningbo or as your request.